Readathons are a very controversial topic. On one hand, there are thousands of bookworms out there who can't wait to join the next readathon so they can finish their to-be-read pile faster.
On the other hand, we have the typical readers who feel they are already reading as much as they can and for whom cramming anymore reading in would take the fun out of it.
No matter which side you belong to, one thing is true: at least the prospect of joining a readathon seems fun.
So we thought we could help you out a little and gather everything you need to know about readathons in one place. This way, you can make your own decision. 
Plus, stay tuned till the end where we've put together a list of 2019's remaining readathons to smash through your unread books.
Did we miss something? Tell us in the comments section below!
What is a readathon?
Before we go in-depth with how you can survive (and maybe win!) a readathon, we should first make sure we're all on the same page.
What exactly is a readathon?
A readathon, or a reading marathon, is an event, usually with a time limit, where you set a specific reading goal you would like to reach. Some goal examples are 5 books, 2000 pages, or even the rest of your reading list.
The purpose of a readathon is to help you read more during that time period than you would any other time.
Reading for long hours on the weekend with a cup of coffee is any reader's paradise. So taking part in events like these encourages more people to read more.
How does a readathon work?
One of the first things to decide on is whether you want to join a readathon or start your own. There are plenty of options to choose from, from 24-hour readathons to extended readathons, and even fundraising readathons.
If you decide to take the DIY route and organize your own, here's a helpful guide that can help you with that.
But no matter which route you choose, readathons can usually be split into 2 stages: the preparation time and the readathon itself.
During the preparation time, you need to think about the logistic stuff such as the books you want to read, where you want to read ( you don't have to stay home, you could choose a cafe or a library), what you're going to eat, and whether you need someone to watch your kids so you can focus on your goals.
Readathons are not all about how much you read. They're about engaging with the community.
During readathons, some organizers also encourage participants to post on social media and visit other bookworms' online profiles. Some even have mini-challenges throughout the competition and give away prizes.
"A reader lives a thousand lives before he dies. The man who never reads lives only one." — George R.R. Martin
How to get through a 24h readathon
Readathons should be FUN. No matter if you've taken part in a readathon before or are getting ready for your first one, here are some tips & tricks that will help you get more out of the time you spend reading.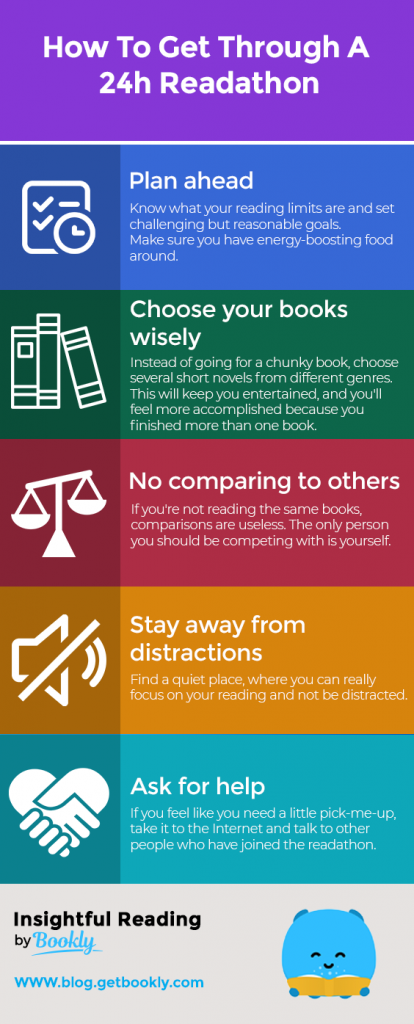 Tip #1: Plan ahead
If you want to get the most out of a readathon, you need to plan ahead. This means knowing what your reading limits are, how much you can read, and how fast. This will help you set challenging but reasonable goals.
Stressing out about how much you're going to read or not being able to reach your goals is not how you want to approach a readathon. Instead, meeting your goals or, even better, exceeding them, will help you enjoy and want to read more.
When compiling your TBR pile, also consider a few "back-up" books. These will help you switch things up a little before the readathon if you change your mind, or they can provide some distraction in case you don't like what you're reading.
Tip #2: Get in the zone
You should be pumped about entering a readathon. You're going to have an awesome time reading good books, so take this to the Internet and share how happy you are. Or better yet have some of your friends join you so you can have fun together.
Expressing your excitement before the readathon will help you stay motivated. So immerse yourself into the community of readers. Maybe even read along with fellow Bookly fans.
Tip #3: Have your meals prepared ahead
Besides sleeping and reading, you also need to think about eating. Easy to prepare meals and snacks & beverages that are not too messy are best because you want to spend as much time as you can reading, not cooking and cleaning.
Tip #4: Shorter books vs. chunky books
Choosing a chunky book for your 24-hour readathon may not be the best idea. You could get bored or demotivated that you're only reading one book, or even less in a day.
Instead, you should arm yourself with a series of short books from different genres (or even graphic novels). That will keep you entertained, and once the readathon is over, you'll feel better about yourself because you managed to finish more than one book.
Tip #5: If a book doesn't keep your attention, drop it
This is when having "backup" books in your pile comes in handy. Reading something you actually enjoy will keep you reading for longer.
You are allowed to quit books, and you shouldn't feel bad about it.
Tip #6: Don't compare yourself to other readers
This can be difficult for very competitive people, but there's really no point in comparing yourself to others, especially if you're not reading the same books.
Some people are fast readers, some like to get immersed in their book. Some may be reading books with lots of pictures while you have a ginormous novel with a small font.
Try not to worry too much about your competition. The only person you should be competing against is yourself.
Tip #7: Stay away from distractions
No Internet, no TV, no games, no people if you feel like it's necessary. Find a quiet place, where you can really focus on your reading and not be distracted.
Tip #8: Ask for help
Desperate times call for desperate measures. It's normal to lose your mojo during a readathon. That's why some events have cheerleaders who keep participants motivated.
If you feel like you need a little pick-me-up, take it to the Internet and talk to other people who have joined the readathon.
Tip #9: Get out of the house
Changing your reading spot can really fill you up with energy. If you feel yourself getting bored at home, take a walk in the park, go to a cafe, or go to your local library.
On the other hand, setting up a goal of not leaving home until you finish your book can also help you get more reading done.
The Ultimate Readathon List
Here are 26 readathons that can help you tackle your to-be-read pile for the rest of 2019:
1. Dewey's 24 Hour REVERSE Readathon (August 2nd 8:00 PM EST- August 3rd 8:00 PM EST)
2. Avid August (August 1st – August 31st)
3. Read-a-thin (August 1st – August 31st)
4. Shoulda Coulda Woulda (August 1st – August 31st)
5. #AYearAThon (August 5th – August 11th)
6. Bout of Books 26 (August 19th – August 25)
7. Sprint-A-Thon (September 1st – September 14th)
8. #AYearAThon (September 2nd – September 8th)
9. Banned Book-a-thon (September 22nd – September 28th)
10. Sequel September (September 1st – September 31st)
11. #AYearAThon (October 7th – October 13th)
12. Off the grid readathon (October October 11th – October 13th)
13. Strangeathon (October 13th – October 31st)
14. Dewey's 24 Hour Readathon (October 26th)
15. FrightFall Readathon (October 1st – October 31st)
16. OWNtober (October 1st – October 31st)
17. #AYearAThon (November 4th – November 10th)
18. Christmas Spirit Readathon (November 25th – December 8th)
19. Read-a-thin (November 1st – November 31st)
20. Remember November (November 1st – November 31st)
21. #AYearAThon (December 2nd – December 8th)
22. Cosyathon (December 2nd – December 8th)
23. Current Readathon (December 2nd – December 8th)
24. Strangeathon (December 20th – December 31st)
25. End of Yearathon (December 26th – December 31st)
26. Diverse December (December 1st – December 31st)