Reading spirituality books can bring to bloom the good seeds within you. It can expand your vision and fill you up with ideas, ideals, and spiritual practices. It stirs your soul and opens your heart and mind to the adventures of life.
Whether you've never picked up a spirituality book before, or you're looking for the next one to add to your to-be-read pile, we're sure there's at least one book for you on this list. We've also included some reviews from other readers so you know what to expect.
Find out what you should be reading next.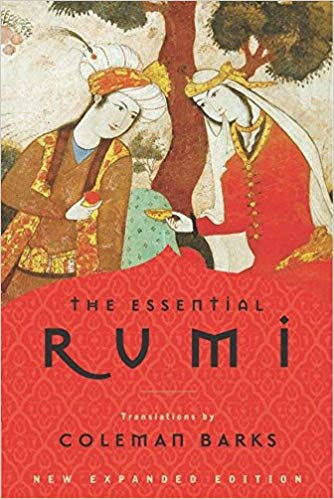 It's impossible to study Sufism and not include a study of Rumi. He's one of the most revered Muslim poets, and with good reason. His work taps into the deepest desire of a human's heart: to be one with the Beloved.
If you've never read Rumi before, you'll not regret reading this. It's beautiful, earthy, and will assist your path to enlightenment. Rumi not only gives you a taste of what you could achieve, he also gives you clues on how you can begin your journey to get there – "Take that long journey into yourself".
This is a beautiful book of interpretations of translations of some of Rumi's work that offers you a good introduction to his life. His words appear contemporary and contain many wonderful thoughts, as well as his share of strange ones. For seven centuries, Rumi's poetry and teaching stories have enchanted, inspired, and enlightened Muslims, Jews, Christians, Hindus, and Buddhists alike.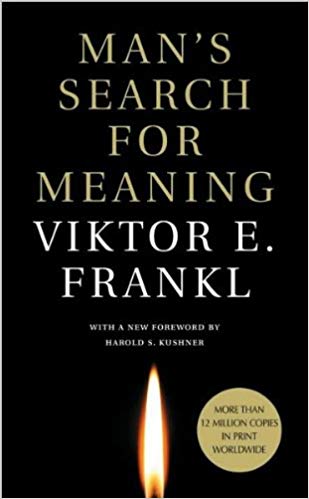 The book is divided into two parts. The first part narrates in vivid detail Frankl's horrifying experiences as a prisoner in a Nazi concentration camp. As a former psychiatrist, he describes his observations of other prisoners, and what he felt to be the main way in which people tried to cope with the overwhelming obstacles they faced. 
He found that those who could find meaning or purpose in their suffering were the ones who also seemed better able to find the strength to go on. Frankl himself found his purpose in the hope of someday he'll see his wife again – a hope that was strong enough to get him through the daily horrors he faced.
The second half of the book is devoted to logotherapy, a form of therapy he developed based on his search for meaning. The basic premise is that those who can find meaning in their suffering are better able to cope with what would otherwise be a struggle too hard to bear.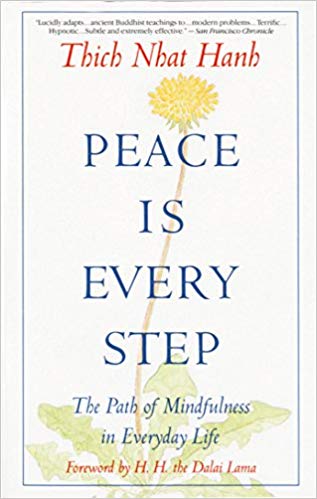 "Peace Is Every Step" is a quick and easy read with lots of helpful anecdotes. Nobel Peace Prize nominee Thich Nhat Hanh shares how mindfulness can help us manage negative feelings like anger, sorrow, and grief, and bring us true peace and happiness.
He speaks about the individual's journey towards inner peace. He insists that to achieve peace around the world, individuals themselves must achieve inner peace. Peace is not something you can will to exist or force on others, it's a collective understanding of one another in societies and between societies. 
His philosophy is similar to Rumi's quote, "Yesterday I was clever, so I wanted to change the world; today I am wise, so I am changing myself". 
Most people are constantly worrying and chasing after new goals. We seek fulfillment, happiness, and peace, not realizing that these are already in us. By slowing down and getting in touch with what's in and around us, we can bring peace and joy to ourselves and others.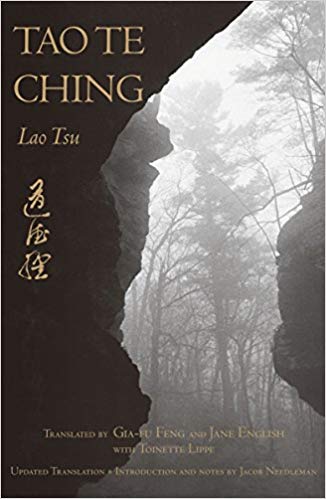 "Tao Te Ching" is one of the world's great philosophical and spiritual classics. The title means The Way of Power or The Classic (Ching) of the Way (Tao) and Virtue (Te). The tao determines the te, which is how a person might act who is attuned to the tao.
To a Westerner, it presents another perspective for understanding meaning and effectiveness. For example, the book shows how movement towards progress creates movement against progress: 
"Do not exalt the worthy, and the people will not compete. Do not display objects of desire, and the people's minds will not be disturbed. Therefore the ordering of the sage empties their minds, fills their bellies, and causes the wise ones not to dare to act."
The idea of the tao is that as you get in harmony with it, your actions cease to seem like action. Psychologist Mihaly Csikszentmihalyi has documented this feeling as "flow" and quantum physicist David Bohm talks of it as being part of "the unfolding". The book paints a picture of a person in full attunement with the tao and, therefore, with the universe. 
This slim book is both a quick read and a long study. Mitchell's lyrical rendering of the "Tao Te Ching" might read to some like silly hippie clichés, but there's more to it than that.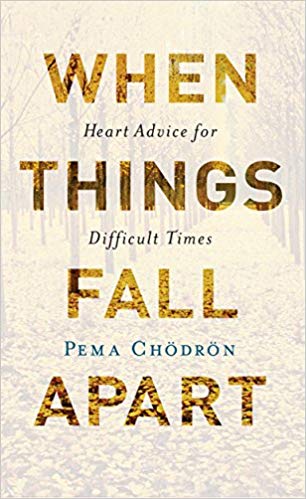 The title refers to the suffering brought about by clinging to fragile security-blankets that give us the illusion of immutability. Accepting the uncertainty of our own worldly existence opens our hearts to the vast beauty of the sacred. When we're on the verge of such acceptance, it seems like the world is falling apart, when, in fact, it's just our illusions that are facing imminent dissolution.
Chödrön begins the book by telling the story of how her marriage ended. Her husband drove up to their house one day and announced that he had met someone else, had been having an affair, and their marriage was over. You'd think this would be the moment when she'd tell you how she'd let love flood her soul and make it lighter. Absolutely not! She stood still for a second, then she picked up a rock and threw it at him.
She didn't throw any more rocks at people after that. Instead, she found many brilliant ways to cope with pain and ego and loss through Buddhist teaching. And in this book, she teaches how non-nuns like us can use her methods to deal with pain and ego and loss in our own life.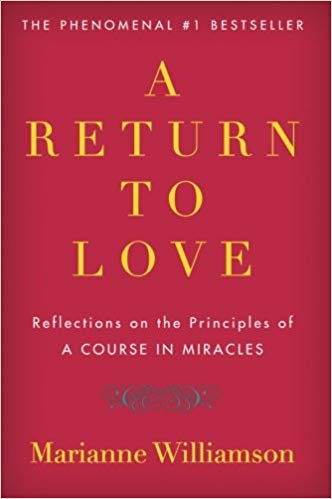 "Our deepest fear is not that we are inadequate. Our deepest fear is that we are powerful beyond measure. It is our light, not our darkness, that most frightens us". You've probably heard this quote before. Although it's often misattributed to Nelson Mandela, its original source is actually Marianne Williamson's book, "A Return to Love".
The book is based on the author's perspective on love and how we need to change the world by letting God's love shine through us. She calls this being a miracle worker. 
Although most of us are born in a certain religion, sometimes we don't know what to believe. We just follow the rules our belief system has set up, but that's not enough to be considered a good Christian or a faithful Catholic. So most of us give up on religion and God.
Sometimes, when we get wounded, we act in a wrongful way out of fear, and we move away from our starting point (love). But we can return there whenever we want by simply shifting our perception, by not allowing our mind to be controlled by fear.
Once you truly grasp this concept and put it into practice, you'll never see the world the same. You'll discover where you need to go when you're at your worst, lowest, or weakest.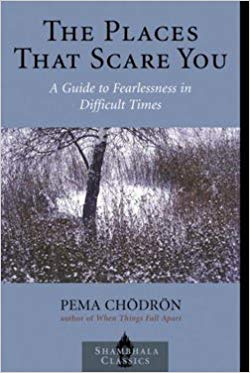 Pema Chödrön is both a refreshing and challenging voice that encourages us to see problems as spiritual opportunities. Instead of trying to run from discomfort, she advocates staying put and learning about ourselves. Instead of habitually reaching for whatever gives us temporary relief, she suggests feeling and observing our discomforts, becoming more fully present in our lives, learning how to be truly here now. Only so can we experience the deep joy of being alive.
"The Places That Scare You" is a great companion volume to her other book "When Things Fall Apart". It elaborates on the themes introduced there, describing several practices of Tibetan Buddhism that will help you not only cope with your anxiety, but use it to overcome fearfulness. 
The practice of "tonglen", for example, is something that can be done anywhere and anytime. It provides a dramatic and freeing shift from an emotional perspective. By learning not to let disappointment, anger, and hurt trigger our personal melodramas, we can find our way to tranquility and become a less destructive presence in the world.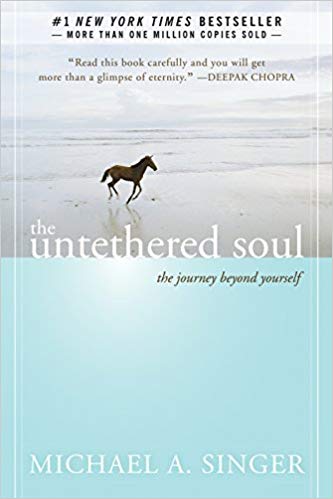 Although this book is short and very easy to read, its message is profound and requires some contemplation, experimentation, and awareness to put into practice. The author succinctly states what all the other New Thought and Spiritual leaders/writers have written volumes on. He simplifies age-old profound ideas.
The basic idea Singer wants to pass on is that you are not your mind. Your mind has made up its own arbitrary list of likes, dislikes, and preferences. 
The reason you suffer and are unhappy is that the outside world is not conforming to your idea of how you think it should be. The more time you can spend watching what your "monkey mind" is doing and saying, the more you can be free to enjoy life as it unfolds. The less you judge, the happier you become.
The author will help you work through your pain, both past, present, and future. Ultimately, this book is a guide in finding and living with peace and happiness in your life, all the time. And who doesn't want that?
A growing number of people are unaffiliated with any organized religion. But that doesn't mean they aren't spiritual. A part of our soul will always yearn for something greater, seek answers to life's biggest questions: Why are we here? How should we live?
What spirituality books have inspired your journeys? Share your favorites in the comments section below.