How many times did you want to save quotes from your favorite books? How many times have you highlighted some inspiring sayings, but never got a chance to access them again?
If you're struggling to save quotes and you're looking for a solution that will help you give up on multiple notes, Google Docs, or even pieces of paper, we have one for you.
We've researched and tested the most stable apps that will help you organize your favorite quotes and sayings in one single place. No frustration, no wasted time, just technology making your life easier.
So here's our top 3!
We've drilled down the top by taking into consideration if the apps are still up and running, with constant development and improvements. We've looked at the interface and user experience, the image to text recognition function, and the smoothness of the process.
Most solid mobile apps that you can use today to save quotes and organize sayings
1. Bookly
Call us biased, but Bookly is definitely the best option out there. It's great to organize all your reading-related tasks in one single app, and the quotes feature is absolutely amazing.
You can add your quotes manually, by writing them down, you can take pictures straight from the paper book you're currently reading, or you can capture images to text from digital materials that you're saving daily.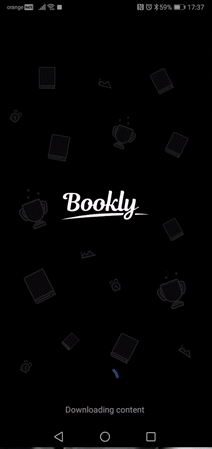 The image to text feature definitely works magic. It's simple to navigate through, and, most important, it's fast. You don't have to wait for minutes for processing, and it even works with slightly blurry pictures.
No wonder that it's got its fair number of 5-star reviews on AppStore & Google Play.
Here's a short demo on how to save quotes with Bookly and have your favorite sayings or thoughts always at hand.
2. Postepic
Postepic is a mobile app for those who fancy some nice design for their quotes as well.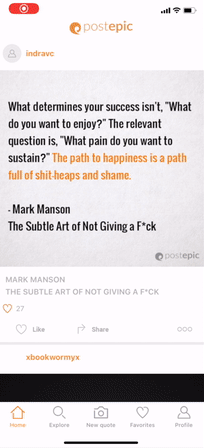 With Postepic, you can save your quotes and stylize them a little bit. You can, for example, add a background image to give it that extra special spark. Plus, you can share the image you create on Twitter, Facebook, or Instagram.
You can find a step-by-step guide on how to use Postepic to collect and share all of your favorite quotes. Or you can check out the video below to get a more accurate overview of the process.
The app allows you to take pictures of text or convert images to text in a very easy and intuitive way. The processing works quick and it's cool that you can choose the style of the quote and your favourite sayings a little bit fancy too. The flow is simple, the design looks clean, and the app seems pretty stable.

3. QOTD
QOTD is another great app that simplifies the way you capture and save your favorite book quotes.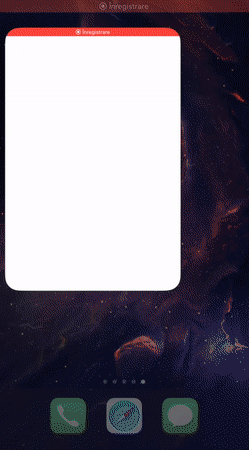 It also lets you share your quotes with other people. The process is similar to how Bookly works: use your device's camera to scan interesting ideas you read in books and convert them to digital text.
The quotes you save are added to your collection and can easily be shared on social media platforms.
To get a full overview of how this works, check out the video below.
These are our go-to apps when it comes to saving all your quotes, sayings, and thoughts in one single app and accessing them from anywhere, anytime. However, there are other options as well, especially if you're looking for a free solution. Here's what else you could use. By the way, if you have any other suggestions, please email us at support@getbookly.com or write them in the comments section below, and we'll update the list.
How to save quotes with Google Keep
Google Keep is a free note-taking solution that lets you transform text from images into a fully editable and searchable digital text. Or at least that's what they say. In reality, the image to text recognition doesn't always work, so most probably you'll have to write most of your quotes manually.
However, if you're looking for a place where you can keep all your quotes, this is a potential solution. The application is available for free on both iOS and Android devices.
How to save quotes with Evernote
Evernote is a note-taking app that allows you to collect your notes, your favorite quotes, and images/photos in the same place. It's similar to Google Keep, or to the note-taking app that comes with your native suite of apps depending on what smartphone you're using.
To be able to use Evernote, you'll need to be on a paid plan.
The main benefit of this app is that you can use it to save other things like articles, papers, and documents as well. It can be a great library for all your resources if this is what you're looking for.
However, when it comes to quotes, you'll still need to add them manually or take photos. But don't expect to be able to capture text from images.
A workaround to be able to use the OCR feature would be to upload the scanned image / PDF to Google Drive, then right-click and select "Open With > Google Docs". It'll then open it with each page as both the original scanned image and editable text.
Why PRO readers choose Bookly
Now that we listed the most stable mobile apps to save your quotes, allow us a final thought on why power readers choose Bookly as their go-to app for saving quotes.
Bookly is a mobile app that helps readers all over the world track and improve their reading performance. It's like a fitness tracker, but for reading. This means that you can track every reading session and get statistics on how many pages you've read and how much you progressed compared with the last session. And the stats go on and on and deeper and deeper the more you read. It's great to create a reading routine, set goals, and eventually read those books that have been on your TBR since forever.
Since Bookly has been created as the all-in-one reading companion for readers across the globe, the add quotes feature has been added just for that: to help users organize all their reading needs in one single place. Add quotes, add thoughts, add or create definitions, use a countdown, or enjoy ambiental reading sounds.
With that in mind, we hope this article will help you one way or another to save your quotes and get inspired whenever you need it.