Golden sands, blue oceans, and Mai Tais sipped on lounge chairs while you take in your daily dose of vitamin D 🏖️ might be far from us this year. But this doesn't mean we can't dream about them. 😌💭
During our last readathon, we made the most of our isolation and tried to get in as much reading as possible. 📚 This time, we're challenging you again to read for a total of 15h between July 20 – 26th.
Here's the twist: you are only allowed to read books that are related to the idea of freedom. This can mean a book that has the word 'freedom' in its title or a book that's about the freedom of expression, freedom to be yourself, a country that has earned its freedom, etc.
Here's a list of 9 books, to get you started. You can choose other books as well, just make sure they fit with the theme: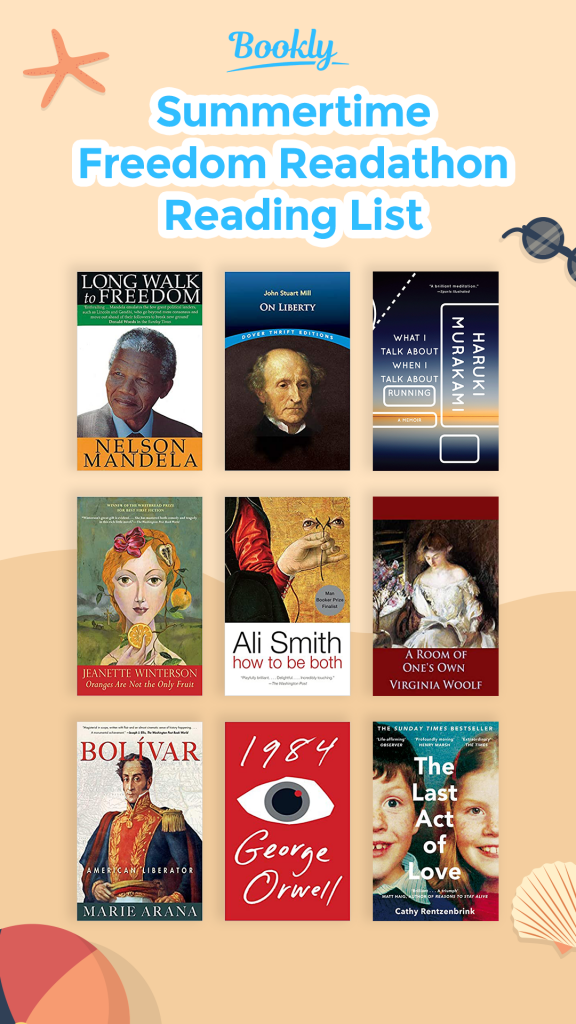 Here are more details you should know about this readathon:

When is the readathon taking place?
From July 20th, 00:00 AM EST to July 26th, 11:59 PM EST 

What do I need to do?
Read for at least 15 hours during the week, and only books related to the idea of freedom. That's it!
Where can I sign up?
You can sign up to be a reader by:
Filling out this form and 
Sharing this article on Twitter:
You can sign up for the #SummertimeFreedomReadathon until July 19th, 11:59 PM EST.

What's in it for me?
We're offering three $50 Amazon Gift Cards to three lucky winners that we'll choose randomly after the readathon ends.

How do I win?
It's simple! Use the Bookly app to track all your reading sessions. On July 27th, export your Weekly Reading Report for the week of July 20 – 26th and submit it here: 👉  https://forms.gle/ak8wWzhas5NfTzc46. 

Here's a video on how you can export your report:

We'll randomly select 3 winners. 
We can't wait to see what books you choose! Don't forget to use the  #BooklyReadathon and #SummertimeFreedomReadathon hashtags so we can follow along on your progress. Good luck and happy reading!