Do you ever come across a book that appeals to you on multiple levels? Kimberley Allsopp's book, Love and Other Puzzles (released 2nd February 2022) is one such book. 
Here's my book review for: 🧩 Love and Other Puzzles, by Kimberley Allsopp
The book's concept is unique, the writing's funny, but if you dig a little deeper, you'll discover some real pearls of wisdom that are sure to speak to readers from all walks of life. 
Our protagonist, Rory, finds her life is perfectly predictable from her lists and pre-prepared breakfasts, to her meal planners and ensuring she completes her 12,000 steps each day. Yet, she keeps asking herself if this is all there really is to her life? So for one week, she embarks on a social experiment to let the clues of The New York Times crossword guide her decision making. What could possibly go wrong?
This was a book that truly spoke to me. I completely used up all my tabs and highlighters for the words of wisdom and clever quips that had me totally enthralled.
What's more?
This is a rom-com that has all the necessary ingredients – a cast of cringeworthy characters, embarrassing moments, and a journey that is well worth it. It's clever, it's quick-witted and it's highly entertaining. Just imagine finding yourself stuck in life, turning to the crossword to look for direction. It's sure to make for many an amusing moment. 
Yet, when you pause long enough, you realise how Kimberley has really captured some reflective themes in her book. This is where some of the features of the Bookly app really compliment your reading. Looking at my recorded quotes and thoughts recorded using the app, it became obvious how Kimberley was on point about many things. Bookly allowed me to realise this through recording as I went along. 
What was it that Ursula K. Le Guin said, 'it is good to have an end to journey towards, but it is the journey that matters in the end'. So, when Rory reaches her proverbial life crossroad, a friend points out, "You've never been about the journey. It has always been the destination that's mattered to you, but that's just not how the universe works."
When you realise that life is not what you want or wish it to be – much like Rory, you might have 'a life that I didn't mind. I just didn't love.'  – how does one change?  I am a total list maker but sometimes, does this confine me too much? Where is the serendipity? 
Favorite quote:
'I have a reasonable level of self-awareness. I know that I like to plan, that checking items off lists fills me with joy and a sense of achievement. I know that not everyone likes mapping out their hours, days, weeks, lives … But having everything in order and diarised wasn't working for me anymore.'
Love and Other Puzzles is totally awesome. It's full of wit and charm, it's refreshing and never dull with a perfect combination of humour and insight. Overall, it not only made me laugh out loud and happily pass joyous hours reading but it also made me stop and consider: "stop pushing yourself to have it all worked out now. It's okay to spend some time getting things wrong before you get them right."

Synopsis included below: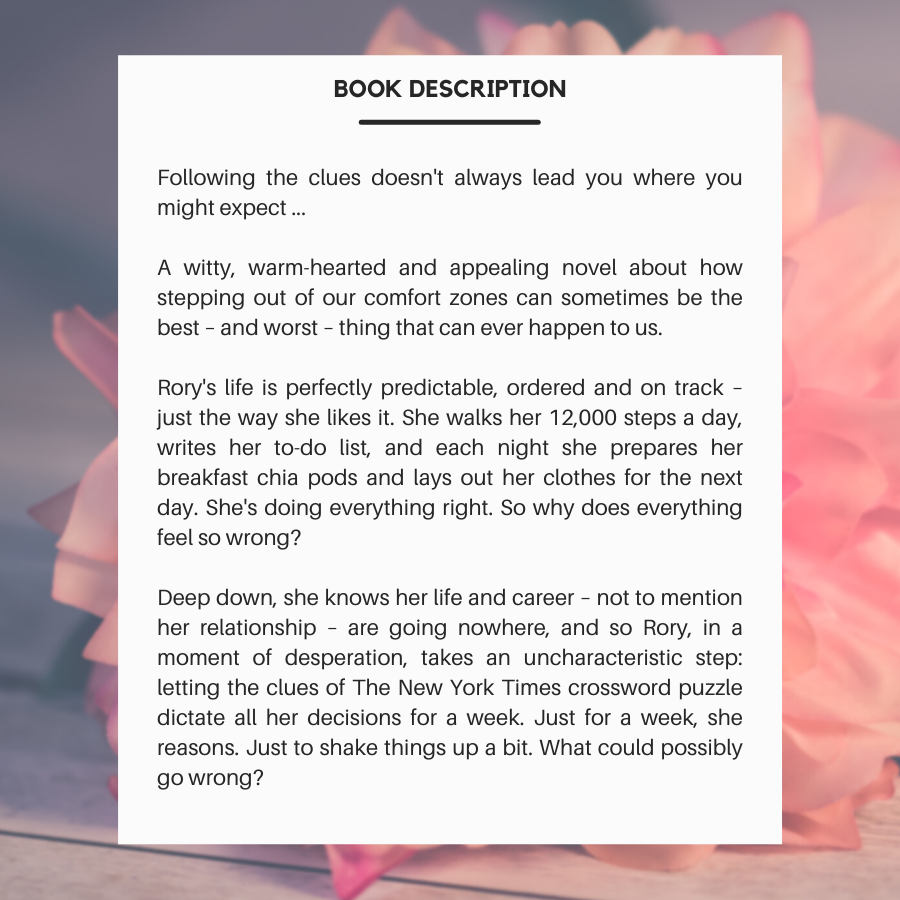 Bookly infographic:
Guest Post by our Bookly Pro Reader, Helen Hancock
Start tracking your reading today!
Download Bookly for iOS  👉   https://bookly.app.link/nAH81rtpg9
Download Bookly for Android  👉  https://bookly.app.link/4TMM20xpg9