So you want to read more books this year.
Using the excuse that you're too busy can be easy, but the reality is most people never really put the time into making it a habit.
Honestly, people are busy and reading cam sometimes seem difficult with a full-time job, but there are ways to help you read more, despite your busy schedule.
Whether it's your favorite Nora Roberts romance novel or the latest Ryan Holiday book that teaches you how your ego is your enemy, Bookly can help you increase the number of books you actually go through this year.
For this article, we asked a few of our most engaged users how exactly they use the Bookly App to read more books.
Some of them read 50, 100, or even 200 books a year. You'll be able to read some of their tips & tricks throughout the article.
Reading more books with Bookly is a lot easier than you think.
Why You Should Use the Bookly App to Read More
You're reading 3 novels and have a pile of 5 more books to start waiting patiently on your bedside table. You want to get through all of them, but keep switching from one to another and don't feel like you're actually finishing any.
You need some organized reading in your life. The Bookly App helps you track your books, reading speed, add quotes, and improve your reading habits over time.
From real-time reading tracking to statistics and goals that keep you focused, to tons of achievements you can unlock to keep things exciting and fun and awesome infographics you can share with your friends.
We know, there's nothing like holding a book in your hands and flipping through the pages. But you just can't beat the convenience of an app, especially when it comes to portability, motivation, and easily accessible library.
The Bookly App will help you track your progress and commitment, which keeps you motivated and helps you achieve your goals more easily.
No more endless scrolling across social media, no more wasted hours watching TV. It's time to get serious about your reading habits.
Here's how to use the Bookly App to read more books:
Set Reminders
Have you ever pondered over your daily routine? How many hours do you spend working, browsing the internet, watching TV?
Sometimes, we're so used to the routines we've created, we don't even realize we don't like those routines.
Using the Bookly App reminders is a great way of making space in your daily routine for a reading session.
If you want to read more books, choose a specific time to read daily. It's like making an appointment with yourself that you're not going to break.
When it's time to read, the app will automatically send you a notification to let you know.
Ding! It's time to start reading.
Then, all you have to do is grab your book and start the timer.
Set Reading Goals
Sure, you're no Warren Buffett, so you can't spend 80% of your day reading, but you CAN read more books if you just set your mind to it. That's where setting goals comes in.
Who doesn't love a good challenge? Challenges help you build internal motivation, confidence, discipline, and willpower. Take it from this Bookly user, who loves setting goals as challenges in the Bookly App:
If you think of reading more in terms of "I'll read a book every week for a year", it can soon become overwhelming.
Instead, try taking the number of pages in the books you're currently reading and dividing it by the number of days you want to spend reading that week.
Here's what this user had to say about the Goals feature in Bookly:
Let's say you want to read 6 days a week. A 300-page book divided by 6 days means only 50 pages per day. That's a much more manageable task.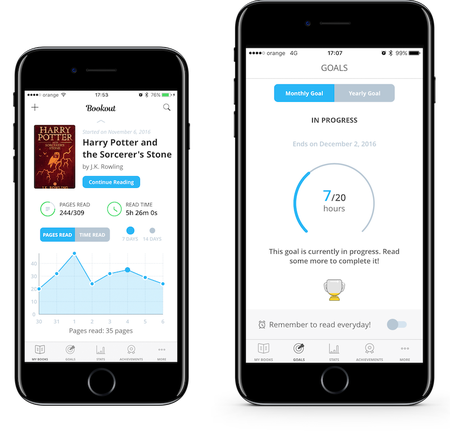 You can set a 50 page/day goal in the Bookly App, or you can even set the number of hours you want to log in as reading by a specific date. This can be especially useful in readathons.
Then, just follow this new habit to reach your goal. At a pace of 50 pages/day, you're looking at 7 books every 10 weeks. That means you'll read about 36 books in the next year. Not bad at all. 
Watch your Stats
Simply selecting your book and starting the timer every time you read means you'll get weekly and monthly reports on your performance, so you know what you need to improve.
Figuring out how many hours a day/week/month you spend reading helps you evaluate how you're currently doing and where you could improve. This user loves using this Bookly App feature to stay motivated.
Bookly tracks and reports on your number of read pages, total reading time, reading speed, and number of books. You can even find out what your maximum number of pages or minutes read in one day was.
Check out your longest reading streak and get motivated to keep reading every day.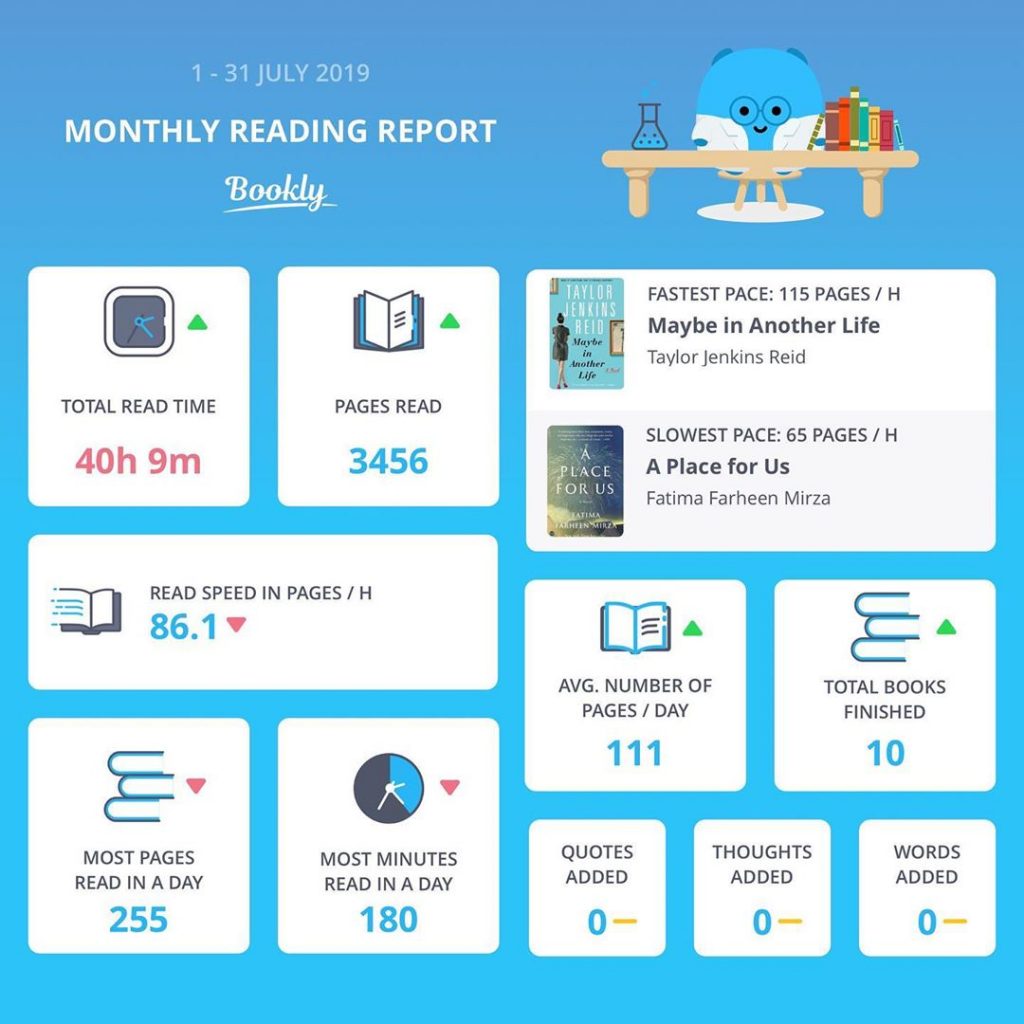 It doesn't even matter whether you're a fan of physical books or audiobooks because Bookly can track your reading in pages or percentages.
You can also add image quotes and notes, and they are all organized in the Bookly App for you to look back on later.
Next year, you can go back and not only re-remember the story but also find some of your favorite quotes and precious notes.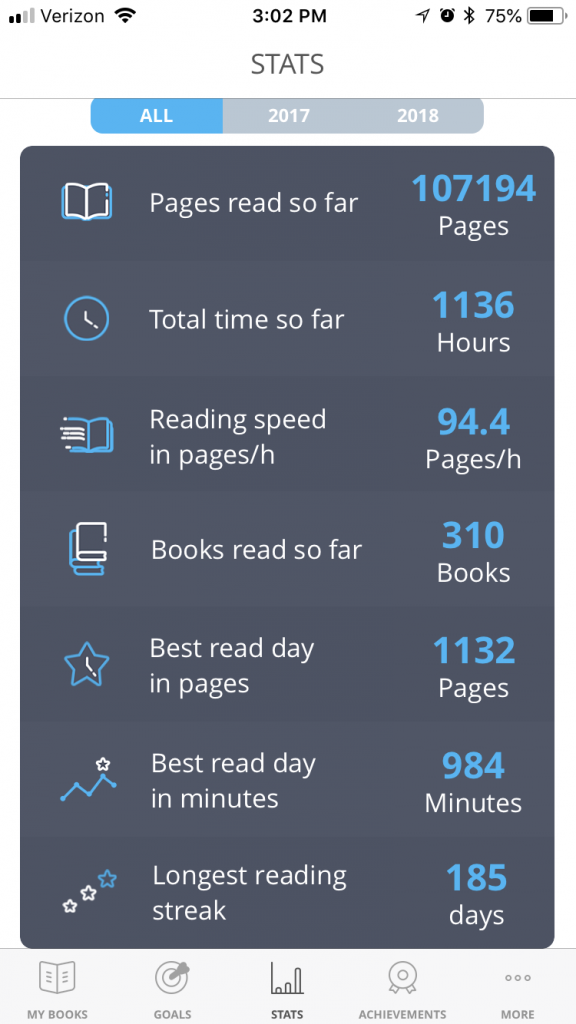 Share Infographics
You've worked hard for those reading statistics, so why keep them all to your self? Share your progress with others. They can keep you accountable for your goals, and in turn, this will also motivate them to read more. Your book club will thank you.
Sharing infographics is also a great way to keep your friends up to date with your reading challenge progress.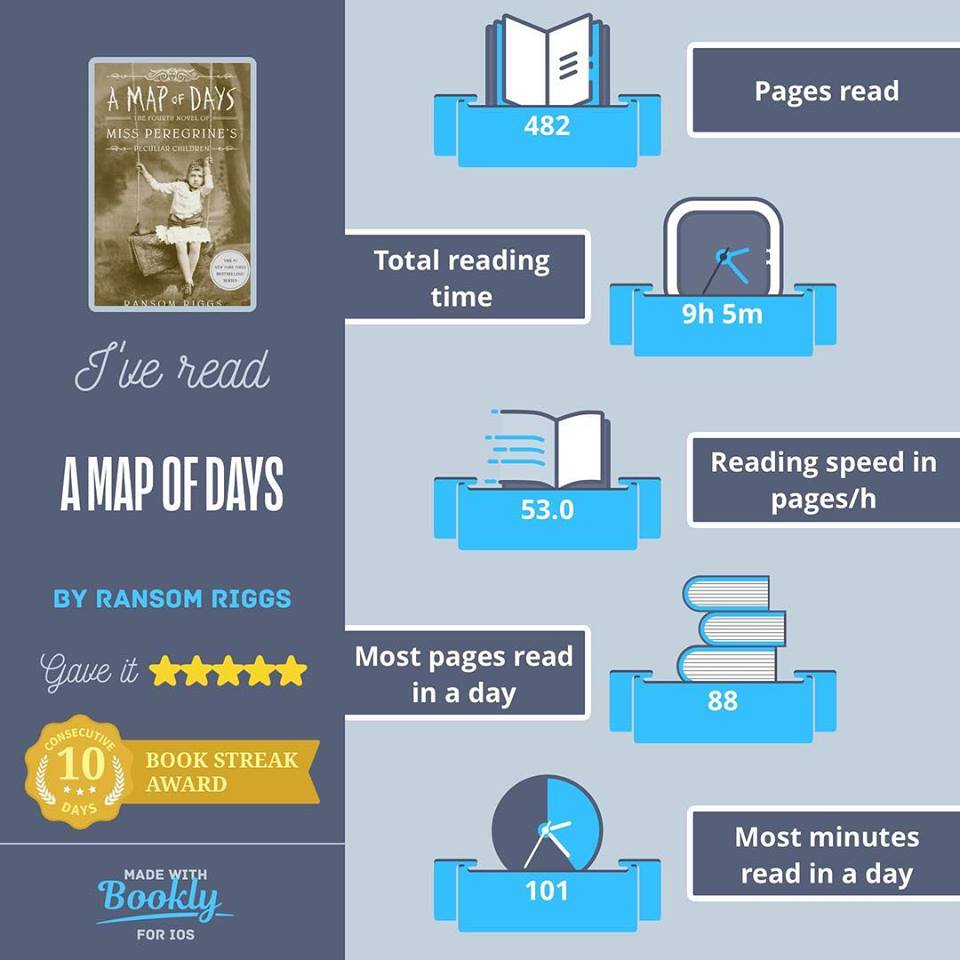 Bookly infographics illustrate the amount of time you spend reading, pages read, reading speed, and book rating. You can also share them directly from the app to your Instagram, Twitter, Facebook, or any other app.
Change it up with the iPad version
We're super excited to let you know that Bookly is now officially available on iPad. Now, you can use the app in any orientation you want, in split view or pop-up forms.
iPads may not have the smell or feel of an old book in your hands, but they do have instant access to millions of books and are extremely light and portable.
Carrying your iPad with you means you'll be able to sneak in some extra reading anytime: sitting in the DMV, waiting for a friend to get ready to go out or while the kids play at the park.
This is the perfect chance to get through your reading lists and get to those good books you just can't wait to pick up in a new format.
Get a Reading Assistant
Last but not least, Bloo, your Personal Reading Assistant, will make sure you hit all your goals, give you helpful suggestions, reading reports, and more.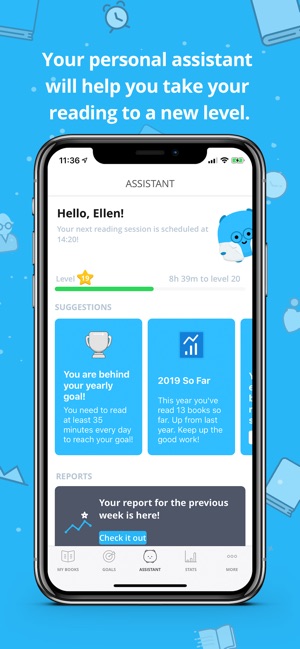 Think of him as your trusted reading companion who helps you figure out and improve your reading habits.
Bloo will analyze your local reading data and offer you helpful suggestions to improve, read more, and hit your goals.
He'll even tell you when your next reading session is scheduled, share random quotes and reading trivia, tell you what your book goal status is, and generate weekly, monthly and yearly reading reports so you know how your reading has evolved over time.
Of course, there are other things you can do to read more books. Join a book club, or start one with a friend, make a blog with reviews about your books – do whatever you can to hold yourself accountable to your goal.
How does Bookly help YOU read more books? Share your experience in the comments below.