Call us what you want – voracious reader, total bookworm, avid book buyer – but there's one thing we all love to do: track our books and check our reading progress. And if there's one app that can do it all, while also keeping us motivated to read even more, that's Bookly PRO.
In this article, we'll go through your typical reading routine, how a reading tracking app can help you improve it, the reasons why you should get Bookly PRO, how it compares to the free version and how it compares to other similar apps on the market.
But don't take our word for it. Download it yourself, get the free trial, and test it to your heart's content.
You absolutely love to read, but you struggle to create a routine that works for you?
Perhaps you haven't read as much as you've planned to by now for this year. Or you're one of the lucky ones, and you've already managed to read a lot, but you're motivated to do even better from now on.
Either way, we bet you have a really long TBR list. And remembering all the books you've read can sometimes feel a bit overwhelming. 😅
Honestly, the act of tracking anything can easily become a struggle, like when you had to log your assignments for school, your supplement intake, or how many cups of water you've had per day.
And you know what the best solution is for logging your books, that keeps things organized and fun to track? Yup, you've guessed it: a reading tracking app. 😉
Having an efficient book tracking system can really motivate you when you're serious about improving your reading routine.
How can Bookly help you improve your reading routine?
Tracking your reading can really make the difference between being a mood reader (not like there's anything wrong with that tho-) and being a consistent power reader.
Using a book tracking app like Bookly can help you:
Organize your thoughts – we all know what it feels like to have your brain wonder all the time about the next book to add to your TBR;
Organize your books – with Bookly, you can keep all your books in one single digital catalog, the ones you're currently reading or the ones you've read in the past;
Keep track of how many books you've read up until now and also how fast you've gone through them;
Keep yourself accountable and improve your reading habit while you're at it;
Motivate yourself to achieve those reading goals you've set for yourself at the beginning of the year.
Besides, you also have Bookly's mascot, Bloo, always there to help you along every step of the way, by keeping track of your books, making you read more, better, and faster. Bloo's like your reading buddy that keeps you motivated and helps you find out exactly how to get into the habit of reading and keep yourself going.
Why should you get Bookly PRO? What features does it unlock compared to the free version of the app?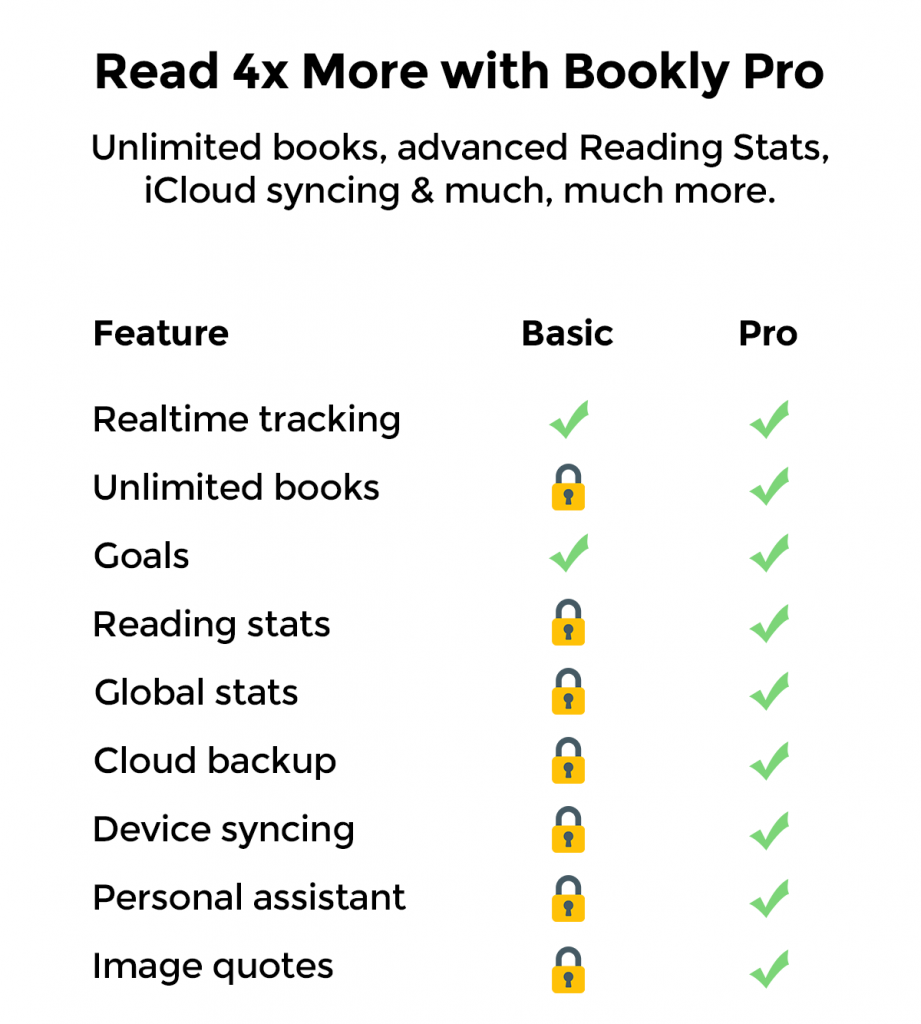 So, what are the benefits of going premium? 👀 Let us break it down for you real quick:
With Bookly PRO, you can track an unlimited number of books with the app. Yup, you heard us – you can add as many books as you want, organize them in collections by year started or by genres, and generate a PDF summary for each and every one of them, after you've read them, of course. 😉
With Bookly PRO, you get customized book stats, and you get to learn more about your reading habit overall. You can get a much better picture of what you read & how much you read. By tracking your books with Bookly, you get data about almost everything: total read time, pages read, reading speed, most pages read in a day, most minutes read in a day, fastest pace, slowest pace, books read, etc.
With Bookly PRO, you can sync your digital library across your devices using Cloud. This way, you instantly get global stats for your reading, no matter on which device you track your books. And by backing up your data through Cloud, you can access it anytime, anywhere.
With Bookly PRO, you can save your favorite quotes from books way faster. Using the image quotes feature, you can take a quick photo of your favorite quote instead of typing it out. This makes it easier to also organize your reading notes and book thoughts in one single app.
With Bookly PRO, you get to enjoy having your own Personal Reading Assistant – Bloo himself! In the Assistant tab in the app, you'll see all the details that Bookly tracks about your book ratings, stats, your current level, goals, readathons, and more.
Well, you really only have to be willing to read more. We'll take care of the rest. 💙
Ok, but how does Bookly compare to other book-tracking apps?
Maybe you're all set on using a book tracker, but, with all the options available on the market right now, you can easily feel overwhelmed.
We're all about tooting our own horn, but we don't want to push you to get Bookly PRO without checking how our app stands against other apps out there. 👇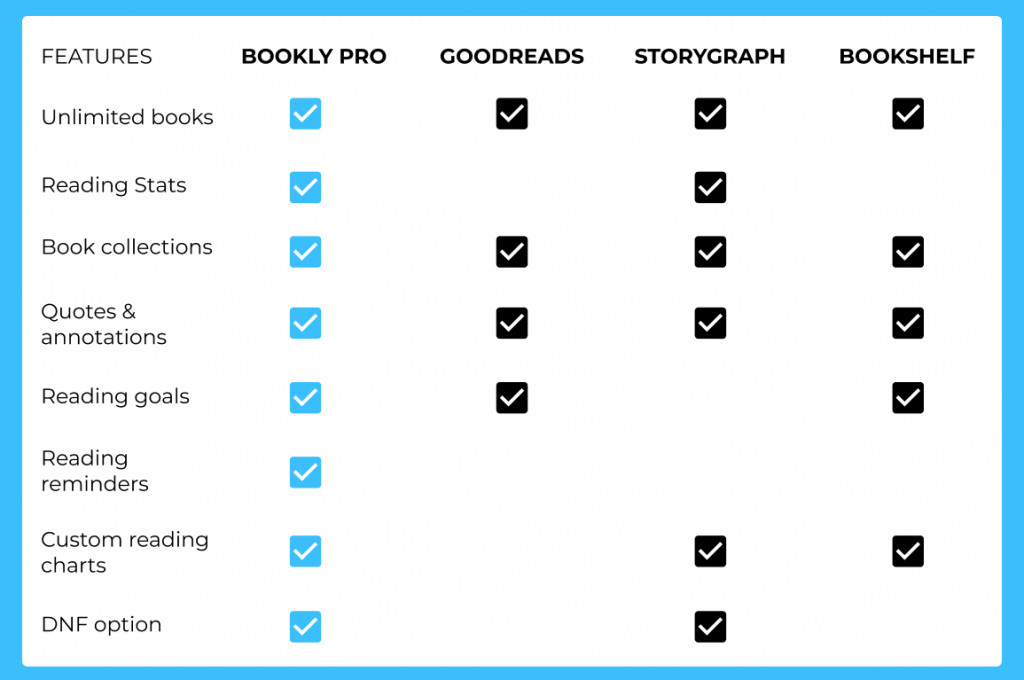 Check these apps out here: Goodreads, Storygraph, Bookshelf
Still not convinced? Let's break down the benefits of using a book tracking app:
When it comes to choosing the best book tracking app, well, things can be a bit tricky. We totally get it. But we're here to help! 😁
Besides having all your books in your pocket, book tracking apps help you to:
Build yourself a reading routine & schedule you can stick to;
Commit to reading even more by using daily reminders and reading streaks;
Keep yourself accountable and motivated to really crush the reading goals you've set;
Track how you're improving your reading progress with every page you flip;
Organize and annotate your books with your favorite quotes, reading thoughts, and notes;
And last but not least, to impress yourself by how much more you've actually managed to read ✨
So, why wait? Get Bookly to help you read more. Make sure you crush all your reading goals!
Start tracking your reading today with Bookly PRO!
Download Bookly for iOS 👉 https://bookly.app.link/nAH81rtpg9
Download Bookly for Android 👉 https://bookly.app.link/4TMM20xpg9