So you've decided to pick up The Priory of The Orange Tree by Samantha Shannon. Picking up this book can be intimidating because of its length, and the fact that it's an epic fantasy adds on another layer of intimidation.
I'm here to give you a guide with some tools, tips and tricks to better understand and enjoy it. 👋
Before you start reading, pick up any of the tools below that you think would be helpful to you in order to better understand and enjoy The Priory of The Orange Tree. If you have a different method you're using that isn't mentioned below, feel free to use that too! Just do what is best for your reading.
Tools To Read The Priory Of The Orange Tree
🐲 A notebook
Use a notebook to write down any information from the book you want to remember! You can jot down the quotes you want to refer to later, information about the magic system, or you can sketch out some character maps.
🐲 Tabs
With tabs, you can quickly flip to important parts of the book. You can use these for quotes, or important plot points that you want to be able to reach quickly. Color coding these tabs can be really helpful too. Such as one color for world building, and another for big reveals in the plot.
🐲 Bookly App
The Bookly App is something I have used for every book that I've read over the last 4 years and 100% recommend it. You can put quotes, thoughts, and definitions for each book which you can look back on later. You can also track your reading times, and see how your reading changes during each session. It's so fun to use, especially if you are interested in reading stats!
🐲 Pens & highlighters
If you're comfortable marking up your book, you can highlight quotes and write thoughts directly in the book, be it in the margins or in the middle of the page. Just do whatever fits your reading style best. This is a judgement-free zone!
🐲 Audiobooks
If you can better understand a story by hearing it, you can try picking it up in an audiobook format instead of trying to read the book physically. Sometimes certain writing styles can be harder to understand, so switching to the audiobook version can help make things easier.
The best way to read The Priory Of The Orange Tree
I personally started a reading session of The Priory of The Orange Tree by getting my tabs and a notebook out. I also had my phone nearby and used the Bookly App to time my reading sessions. This way, I can see how much longer I have until I finish the book. Does anyone else try to beat the estimated time? 🤭
The rest of this reading guide is sectioned into different elements that are within an epic fantasy such as The Priory of The Orange Tree, so not only is this a guide for that book but also any other epic fantasy you may pick up!
🍊🌳 World Building, Magic System and Religions
Whenever I pick up an epic fantasy, my biggest concern is understanding the world and the magic system or religion that is set in place.
My biggest tip is to write down what you learn about the magic system. I know, I know, note taking isn't for everyone, who wants to make it feel like a school project, right? 😅
Tabbing is an easy alternative. If you have the Bookly App, try using the "Thoughts" tool. You can jot down a quick thought or important piece of information you'd like to go back to later.
🍊🌳 Language and Vocabulary
Some of the language or vocabulary used in fantasy books like The Priory of The Orange Tree can leave a lot of question marks.
The author of the book, Samantha Shannon, was kind enough to put a dictionary in the back of the book for readers to refer to. This way, you don't have to make your own. 😌
However, if you want to, or are reading a book that doesn't have that feature you can use the "Definitions" tool in the Bookly App! You'll be able to type in the word or phrase in question, and a definition. You can always look up what the word means, or use context clues to the best of your ability. I've used this function a lot not only with The Priory of The Orange Tree, but also in other books when different languages were used.
🍊🌳 Characters
Fantasy books are notorious for having a lot of characters (with very hard to pronounce names 😆).
One great way to keep track of them and how they relate to one another is to create a character map! You can easily do this by using a notebook. It's simple: as you get introduced to a new character, write down their name and any details you learn about them.
You can even make a list of all the characters in your notebook. Or, you can create a family tree type character map and connect characters to one another on the paper.
Samantha Shannon has a character guide at the back of the book for readers to refer to. Always be careful while reading character guides that are included in books, though, because you could accidentally spoil the story for yourself 😶
🍊🌳 Maps and Story setting
Any good epic fantasy has a map in the beginning of the book for readers to look at, and Samantha Shannon made sure to include it in her book as well. You can easily find yourself flipping back to the map whenever the characters traveled somewhere new.
This helps to visualize the journeys that the characters are making and to separate one setting from another. There are many different countries that are visited in The Priory of The Orange Tree, and I found myself jotting down details about each of the different locations. What the atmosphere was like, the cities, etc.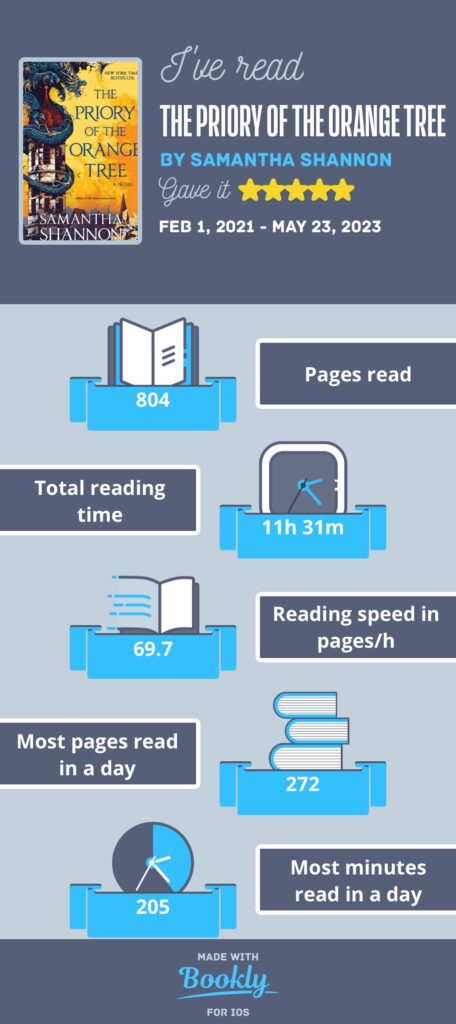 That's a wrap! 🐲
The Priory of The Orange Tree was an amazing read, a 5 star from me!
I hope this guide helps you and makes it seem like a less intimidating read.
At the end of the day, you should do what is best for you. And if you don't like any of the tips or tricks above then feel free to do your own thing!
Happy Reading!
Guest Post by our Bookly Pro Reader, The Rose Post 💙
Looking for more bookish content to devour? We've got you covered! Whether you're trying to get out of a reading slump or want even more reasons why reading is amazing, don't forget there's always Bloo, your own personal reading assistant to help you out. So, keep exploring and happy reading!
Download Bookly for iOS 👉 https://bookly.app.link/nAH81rtpg9
Download Bookly for Android 👉 https://bookly.app.link/4TMM20xpg9